Please expect delays in shipping due to the pandemic situation.
Contact us with questions support@bestpub.com
---
Video #2 (Preventing Diver Fatalities Series): Preventing Dive Site Entrance and Boat Related Injuries
Last week we released the first video in a new series on preventing diver fatalities. The second video in the series is now available!
In the second video, we discuss two types of common surface related injuries to divers - those that occur during the entrance to a dive site, and boat related injuries.
In this video you will learn:
The most common causes of injuries that occur while entering a dive site and how to avoid them.
How to make sure that everything is really "OK" upon entering the water.
Steps to reduce your risk of injury from the dive boat and nearby vessel.
Preventing Diver Fatalities Package Set
Take advantage of this new package set that includes special discounts and limited time bonuses that are only available this month!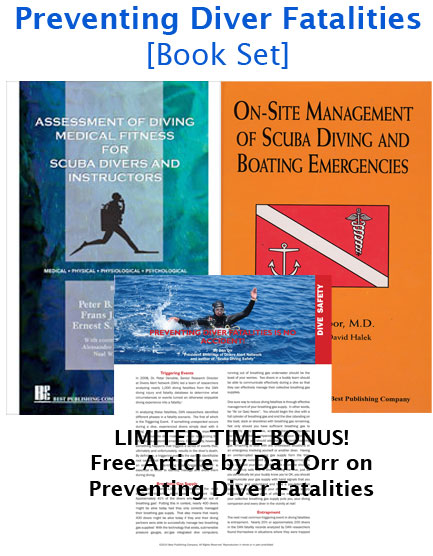 (Retail Price $67)
NOW $49.99!

Package Set includes:
Assessment of Diving Medical Fitness for Scuba Divers and Instructors (book)
On-Site Management of Scuba Diving and Boating Emergencies (book)
FREE bonus article from Dan Orr (President Emeritus of Divers Alert Network, and author of Scuba Diving Safety) available only in October!
AND Free Shipping within the continental U.S. (only in October)
Related Posts
By accepting you will be accessing a service provided by a third-party external to https://www.bestpub.com/