DEPTH Blog
The most useful snippets from our authors, all in one place. DEPTH discusses topics of diving, equipment and environment, physics and physiology, technique and technology, and hyperbarics.
Interview with Technical Diver, Asser Salama, Author of Deep Into Deco: The Diver's Decompression Textbook
We recently caught up with Asser Salama, author of the new release, Deep Into Deco: The Diver's Decompression Textbook. Asser is a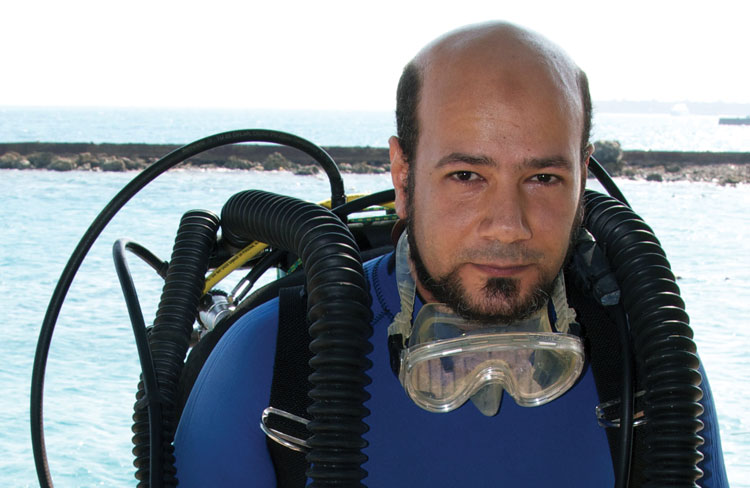 technical diver and instructor, is founder of Tech Diving Mag and developer of Ultimate Planner decompression planning software. He has a bachelor's degree in engineering and a master's degree in business administration. A software developer with an interest in decompression modeling, Salama plans to implement computational algorithms based on credible research papers to prevent some pioneering work from fading into academic obscurity.
We set out to get to know Asser on a more personal level. Here's what we found out...
Q. How did you first get into technical diving?
A. From my early diving days, I never subscribed to the 40m/130ft "red line". I find it a bit confusing not to train new divers how to deal with decompression in a proper manner. It is not unusual to find portions of a wreck or a nice coral patch just below 40m/130ft. Would you expect the divers not to go there? Some will definitely go, without proper planning. Those who still use tables won't be able to plan anything beyond 40m/130ft. Others who depend on dive computers might face the unfortunate event of passing the computer's no deco limit. The computer will start to blink and beep, frequently showing sky-rocketing decompression penalty, which would lead to stress and eventually panic.
So how did I first get into deep diving? I just educated myself on deco and did the dives the way I want.
Q. What prompted you to write the book, Deep Into Deco?
There's some good information on deco in books, training manuals and on the web. However, I didn't find a complete textbook that covers all the aspects I find important. Some of which are:
What are the latest research papers about?
How do divers feel about new models?
How do deco modelers think?
I'm also a software developer involved in deco modeling, so I wanted to share what I do.
Q. What do you consider your "best dive ever"?
A. Plenty. One of which is a drift dive from Anemone City through Shark then Yolanda. This is a very popular area in Ras Mohamed, Sharm El Sheikh, Sinai. However, if you're experienced with the area, there's a not-so-popular route where you can turn around the reef and just let yourself go with the current. There you'll find all sorts of marine life, including turtles, sharks and tunas. Another extremely nice site is Abu Kefan in Safaga. It's a deep reef divided into two portions with a saddle in between. Unlike Shark/Yolanda, it's in the middle of the sea. The reef is healthy and the current is strong, bringing all sorts of marine life. Both sites are in the Egyptian Red Sea.
| | |
| --- | --- |
| | Learn more about Asser's work on decompression and what's missing from your technical diving plan with this [Free] podcast series excerpted from his book, Deep Into Deco. |
Enter your name and email above for access.
*This is a FREE service and no credit card is required.
You will learn about the most difficult technical diving topics in this easy to understand podcast series:
The Mechanisms of Deep Stops
The Major Draw Back of a Combined-Model Approach
The Dimensions of Conservatism
And much more!
Enter your name and email in the box above for access!
Stay Informed
When you subscribe to the blog, we will send you an e-mail when there are new updates on the site so you wouldn't miss them.