DEPTH Blog
The most useful snippets from our authors, all in one place. DEPTH discusses topics of diving, equipment and environment, physics and physiology, technique and technology, and hyperbarics.
Salvaging Lives Through Dive Training with Fred Johnson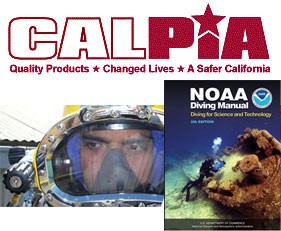 What do the California Prison Industry Authority (CALPIA), commercial dive training, and the NOAA Diving Manual 5th Edition textbook have in common? We found the answer when we were recently introduced to Fred Johnson of CALPIA by Dan Orr, author of Scuba Diving Safety and former President and CEO of Divers Alert Network.
Mr. Orr informed us that Fred runs the diving program at CALPIA's Marine Technology Training Center (MTTC) and that they might benefit from a donation of the NOAA Diving Manual 5th Edition textbooks for their dive students. As you can imagine, this piqued our curiosity and we immediately contacted Fred to learn more.
In working with Fred to orchestrate our book donation, we learned about the work that Fred does within CALPIA and in his dive training program. So we asked Fred to join us on this podcast interview to tell you about this very unique diving program and the profound and positive impact that he has on men's lives through his work as a dive leader. Click below to listen (or download) the podcast.
The CALPIA operates the MTTC, an 11-month long training program with a diverse curriculum that includes diving physics, navigation,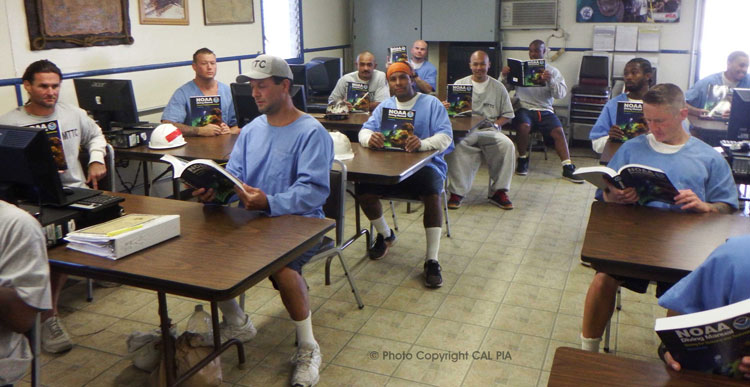 The MTTC divers in class with their NOAA Diving Manual 5th Edition textbooksreport writing, air systems, welding, seamanship, blueprint reading, diesel engines, and marine construction.
The training not only focuses on technical skills, but also instills a professional attitude of determination, perseverance, and courage. Together, these skills provide graduates with employment opportunities in commercial diving in areas such as underwater construction, dam repair and maintenance, welding, harbor diving, and offshore oil drilling.
The commercial diving program was initially established in 1970 at the California Institute for Men (CIM) in Chino under the vision and guidance of Leonard Greenstone, former Vice Chair and Prison Industry Board Member, U.S. Navy salvage diver, and successful commercial diving contractor.
Although the graduates of this program consistently maintained a recidivism rate of less than 7 percent, the program was closed in 2003 due to budget constraints. However, in 2006 CALPIA re-established the commercial diving center at CIM as part of the renewed rehabilitation efforts of the California Department of Corrections and Rehabilitation.
The technical skills taught at the MTTC are designed to ensure that nearly 100 percent of the program's graduates secure jobs after release. The training modules also focus on helping the graduates in adjusting and developing proper attitude, initiative, and industrial skills.
The MTTC has a renowned history of not only educating and training offenders as commercial divers, but also providing the confidence needed to successfully transition into meaningful employment and avoid re-incarceration.
The MTTC has expanded from producing commercial divers to training offenders in other occupations in the marine industry, as well as preparing offenders to become productive members of society.
How Can You Help?
Contact Fred Johnson to discuss how you can help support the California Prison Industry Authority's Marine Technology Training Center.
Phone: 909-772-4322 (mobile)
Email: This email address is being protected from spambots. You need JavaScript enabled to view it.
Stay Informed
When you subscribe to the blog, we will send you an e-mail when there are new updates on the site so you wouldn't miss them.