DEPTH Blog
The most useful snippets from our authors, all in one place. DEPTH discusses topics of diving, equipment and environment, physics and physiology, technique and technology, and hyperbarics.
Beyond the Journey. What's Next?
Jennifer Idol shares two questions that she is most frequently asked about her 50 state journey:
1. Can you dive in all 50 states?
Yes, and even find good places to dive in all of them.
2. What's next?
I'm building a new product that will showcase both video and photography, but first, I'd like to share a few images from travels since the journey ended (images are below). Some of the places I visited were so remarkable, they required a repeat visit. In Tennessee, I again visited the paddlefish in Loch-Low Minn quarry. I continue diving in Balmorhea with the endangered Comanche Springs pupfish and soft-shell turtles. I'm also creating images from around the world as I visit the California sea lions in Los Islotes, whale sharks in Isla Mujeres, and destinations in Asia.
Find updates to these adventures through Jennifer's social media feeds, on her personal Facebook, or as The Underwater Designer and An American Immersion. Follow @uwDesigner on Instagram.
CLICK HERE to learn more about Jennifer and her book, An American Immersion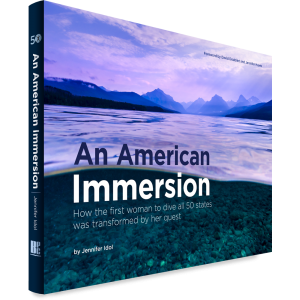 Stay Informed
When you subscribe to the blog, we will send you an e-mail when there are new updates on the site so you wouldn't miss them.