In observance of Thanksgiving, our Customer Service will be closed on Wednesday, Thursday & Friday, November 21 thru 23, 2018. We will reopen on Monday, November 26, 2018. Thank You!
2018 Black Friday Sale
Use the coupon code BlackFriday2018 to receive 25% off.
This sale extends from now through Monday, November 26th.
(this sale excludes Hyperbaric Oxygen Therapy Indications, Thirteenth Edition, UHMS Guidelines for Hyperbaric Facility Operations 2nd Edition, NFPA 99 2015 Edition: Health Care Facilities Code, NFPA 99 2015 Edition: Health Care Facilities Code Handbook, and NFPA 99: Health Care Facilities Code, 2012 Edition (F1229))
To place your order offline, use this PDF order form
DEPTH Blog
The most useful snippets from our authors, all in one place. DEPTH discusses topics of diving, equipment and environment, physics and physiology, technique and technology, and hyperbarics.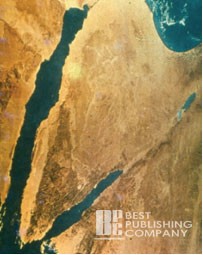 A startling vindication of Cunningham's assertion that a modest increase in pressure improves health has come from a study in Israel of patients with advanced lung disease, published in the journal Chest in 1996.17 The patients who were all receiving supplemental oxygen in Jerusalem were taken down to the Dead Sea to see if they would benefit from the higher level of oxygen in the denser air. Jerusalem is 2,600 feet (800 metres) above sea level, and the Dead Sea is 1,300 feet (402 metres) below sea level, giving a total reduction in altitude of about 3,900 feet (1,200 metres). On the satellite image (see the photo above), which shows the Red Sea's Gulf of Suez and Gulf of Aqaba, the Dead Sea is the stretch of water on the right below the Mediterranean.
Copyright
© Best Publishing Company