Please expect delays in shipping due to the pandemic situation.
For international order please contact our customer support to place your order.
Contact us with questions support@bestpub.com
---
DEPTH Blog
The most useful snippets from our authors, all in one place. DEPTH discusses topics of diving, equipment and environment, physics and physiology, technique and technology, and hyperbarics.
Better Healing with More Oxygen
Recently there has been some exciting news about recent media coverage of hyperbaric oxygen therapy.
Both the BBC News UK and the Telegraph ran stories about Lance Bombardier Ben Parkinson, who was seriously injured by a Taliban bomb while serving in Afghanistan in 2006. Dr. Philip James, author of Oxygen and the Brain, told us that, "The bomb left his legs so damaged that they had to be amputated. After undergoing hyperbaric oxygen treatment, Ben is now walking without assistance and hopes to dispense with crutches very soon. His family members say his speech is much clearer and they have documented 20 other improvements – all this after 8 years."
We invite you to read the Telegraph article and watch the BBC News video featuring Ben's story and the healing effects of oxygen.
[Video] Learning to walk again with the help of oxygen (BBC News UK)
[Article] Oxygen therapy: the treatment behind serviceman's amazing recovery (The Telegraph)
Learn more about better healing with more oxygen in the recently released book by Dr.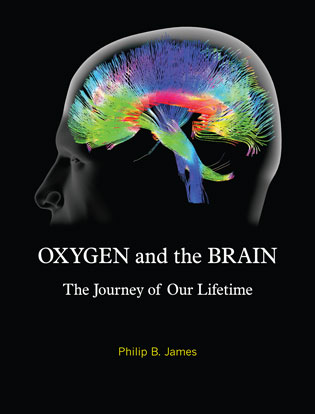 Philip James, Oxygen and the Brain: The Journey of Our Lifetime
ABOUT THE BOOK
Man has conquered Everest, been to the bottom of the deepest ocean, and even walked on the Moon by understanding pressure and oxygen. But the one area of life the technology has not influenced is the practice of medicine.
Billions have been spent researching drugs to treat the brain and they have failed; drug companies are closing their neuroscience laboratories. This is because there is no substitute for oxygen. As the most astonishing discovery since DNA was unraveled has shown, oxygen, the gas in the air we all breathe, controls our most important genes.
If we are sick or seriously injured and in intensive care, the amount of oxygen we can be given is limited by the weather. Without a simple pressure chamber, we are forced to accept a variation of more than 10% when just 2% more oxygen on the summit of Everest can mean the difference between life and death. We have already engineered the solution; the technology used in aircraft that sustains us flying at 40,000 feet can facilitate medical recovery safely on the ground.
This book follows the human journey from conception to old age and presents evidence amassed over more than a century that can transform the care of patients with birth injury, head trauma, multiple sclerosis, stroke, and even reverse decline in old age. There is no more necessary and scientific action than to correct a deficiency of oxygen, especially in the brain and it is simple to give more.
Click to find more details about the book, Oxygen and the Brain
ABOUT THE AUTHOR
Philip B. James, MB, ChB, DIH, PhD, FFOM, Emeritus Professor of Medicine, University of Dundee.
Dr. James qualified in medicine from Liverpool Medical School in 1966 and after a fellowship in surgical research he studied industrial medicine in Dundee, Scotland. After Royal Navy training in 1973, he specialized in diving medicine, combining an academic post in the University of Dundee with consultancies to many international diving contractors, including IUC, Oceaneering, Comex, and Ocean Technical Services.
In 1983, he received the Craig Hoffman Award from the Undersea and Hyperbaric Medical Society for diver paramedic training and contributions to diving safety, including minimum oxygen content in helium, high oxygen partial pressures in diver's emergency supplies, and the use of helium/oxygen mixtures in recompression treatment. Dr. James also holds a US patent for a cabin membrane oxygen enrichment system for commercial aircraft.
In 1982, he published evidence for sub-acute fat embolism as a cause of multiple sclerosis in the Lancet comparing the pathology to decompression sickness and endorsing the use of hyperbaric oxygen treatment. Later studies with Professor Brian A. Hills in the University of Texas in Houston showed that micro-emboli disturb the blood-brain barrier. Further research in Dundee demonstrated that inflammation, the hallmark of multiple sclerosis, may produce profound tissue oxygen deficiency.
Five multiple sclerosis patients treated by Dr. James in 1981 founded a community hyperbaric facility in Dundee, and there are now 65 charity centres operating in the UK and the Republic of Ireland providing low-cost hyperbaric oxygen treatment for neurological conditions. The centres were deregulated by Act of Parliament in 2008. Dr. James retired in the same year, but continues as honorary adviser to the charity, as a consultant to the offshore oil and gas industry, and a passionate advocate for using oxygen in treating disorders of the brain.
Click to find more details about the book, Oxygen and the Brain
Stay Informed
When you subscribe to the blog, we will send you an e-mail when there are new updates on the site so you wouldn't miss them.