Please expect delays in shipping due to the pandemic situation.
For international order please contact our customer support to place your order.
Contact us with questions support@bestpub.com
---
DEPTH Blog
The most useful snippets from our authors, all in one place. DEPTH discusses topics of diving, equipment and environment, physics and physiology, technique and technology, and hyperbarics.
A Giant in the Field of Hyperbaric Medicine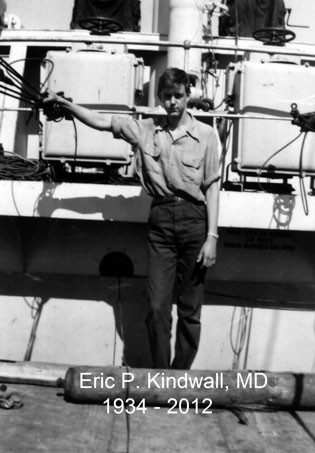 Many refer to Dr. Kindwall at the "Father of Hyperbaric Medicine," and his contributions to hyperbaric medicine are legendary. Dr. Kindwall was born on January 17, 1934 and passed away on January 18, 2012. For this reason, we find it fitting to highlight his contributions to the field of hyperbaric medicine during the month of January.
Dr. Kindwall represented the best in hyperbaric medicine, a seamless integration of physiology and practical clinical practice. While rigorous scientifically, he was always grounded in the practicalities of providing HBOT in the clinical environment. - Helen Gelly, MD, FACCWS, UHM/ABPM, FUHM
Best Publishing Company has had a rich publishing history with Dr. Kindwall, and here is what Jim Joiner (former owner and past president of Best Publishing Company, and industry giant in his own right) contributed when we asked him to comment on his and BPC's historical relationship with Dr. Kindwall.
"Dr. Eric Kindwall was surely one of the most intelligent, dedicated, and passionate authors I had the honor to work with. His contributions to hyperbaric medicine left a defining mark on the field. A significant part of his legacy will be his book, *Hyperbaric Medicine Practice, the first complete textbook published on hyperbaric medicine. In addition to Dr. Kindwall's lasting contributions, the immeasurable effects of his knowledge, vision, and accomplishments will live on in the students and physicians he profoundly impacted through his life and work."
BPC has also had the privilege of encapsulating Dr. Kindwall's life journey and professional history in his autobiography, Unexpected Odyssey - From Merchant Sailor to Hyperbaric Physician. We are privileged to have had the opportunity to work closely with Dr. Eric Kindwall, and it is our great pleasure to continue to honor his legacy.
Join us all this month as we dive into the published work of Dr. Kindwall. We will be discussing topics such as the physics of diving and hyperbaric pressures, the multiplace chamber, the use of drugs under pressure, contraindications and side effects to hyperbaric oxygen treatment, carbon monoxide and cyanide poisoning, decompression sickness, and gas embolism. Make sure that you are subscribed to our mailing list to join the conversation and to receive free content and special discount offers.
Learn More About It With These Resources
Hyperbaric Medicine Practice, Second Edition Revised

By Eric P. Kindwall, MD and Harry T. Whelan, MD

Hyperbaric Medicine Practice, Third Edition

By Eric P. Kindwall, MD and Harry T. Whelan, MD

eBook Hyperbaric Medicine Practice, Third Edition

By Eric P. Kindwall, MD and Harry T. Whelan, MD

Unexpected Odyssey: From Merchant Sailor to Hyperbaric Physician

The autobiography of Eric P. Kindwall, MD
Stay Informed
When you subscribe to the blog, we will send you an e-mail when there are new updates on the site so you wouldn't miss them.