Please expect delays in shipping due to the pandemic situation.
Contact us with questions support@bestpub.com
---
Comprehensive Patient Education: a compelling testimonial
We would like to share a compelling testimonial that we just received from Dr. Calderone, CEO of Olympia Medical Center in Los Angeles, CA, regarding his hospital's use of the just released Hyperbaric Patient Safety Instructions. Since implementing the use of the brochures at their hyperbaric clinic, the Olympia Medical Center has had a consistent patient satisfaction score in the 90th percentile. Read Dr. Calderone's testimonial below.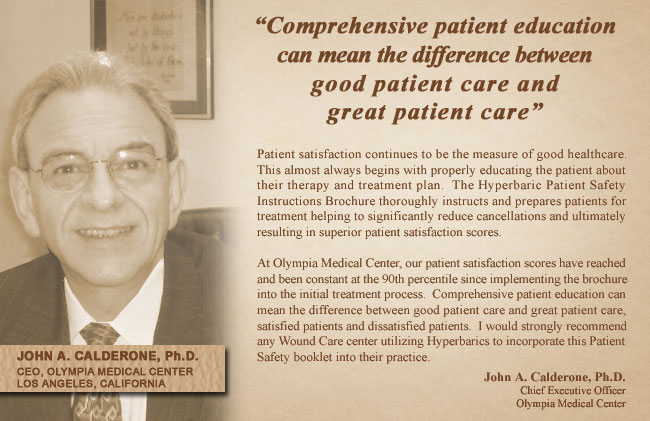 Take Action Today!

Are you ready to improve patient education in your clinic today? The Hyperbaric Patient Safety Instructions is the perfect tool to use to immediately improve the effectiveness of patient education.

This tri-fold brochure illustrates step-by-step what patients experience before, during, and after a monoplace hyperbaric treatment. Order a pack of brochures for your clinic today!
[Exclusively available through Best Publishing Company!]
Related Posts
By accepting you will be accessing a service provided by a third-party external to https://www.bestpub.com/