Description
Specifications
Post a comment
Do you know the significant legal risks that you face every day as a medical practitioner? Have you ever considered how you may be able to minimize those medical-legal risks?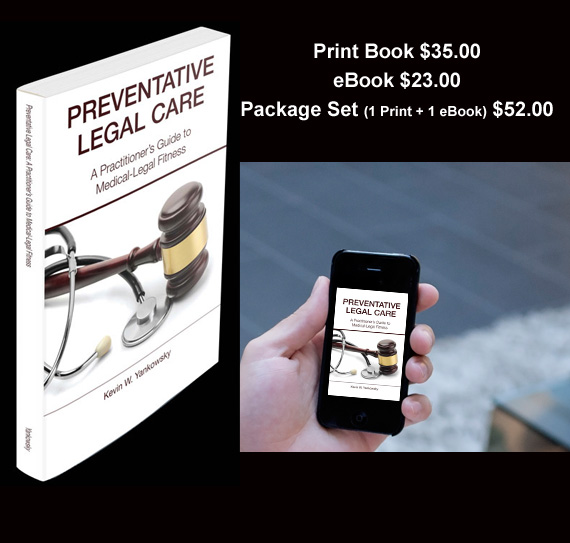 Do you spend hours, or even days, agonizing over each and every tiny medical risk that your patients face, trying to properly identify, evaluate, and handle those risks in a prospective fashion, while spending almost no time thinking about your own practice, trying to identify and manage the medical-legal risks that you face as a practitioner?
After realizing that this is, in fact, a big problem, author Kevin Yankowsky decided to do something to help. Kevin is the author of the brand new book, Preventative Legal Care: A Practitioner's Guide to Medical-Legal Fitness.
The book is backed by Kevin's 20+ years of medical-legal defense experience, and he covers the most important topics that you need to understand about mitigating your risk while providing compassionate, appropriate medical care to your patients.
This book is for ALL medical practitioners - from nurses to doctors, to acute care hospitals, pharmaceutical companies, long-term care facilities, and others.
ABOUT THE BOOK
This easy to read book provides practical, real-world solutions to effectively manage and diminish your medical-legal risks. As a practicing healthcare attorney, Kevin W. Yankowsky has represented individual clinicians and healthcare institutions involved in legal disputes of all shapes and sizes. In his over 20 years as a practicing attorney, he has seen providers and institutions pour money into resolving legal disputes that potentially could have been avoided. Institutions focus too much of their time, effort, and financial resources on the costs of litigation defense and the expenses of settlement rather than investing time and resources on medical-legal prevention. In Preventative Legal Care: A Practitioner's Guide to Medical-Legal Fitness, Yankowsky outlines some medical-legal risk factors unassociated with clinical care and supplies practical real-world solutions to recognize, control and minimize, if not eliminate, those factors.
ABOUT THE AUTHOR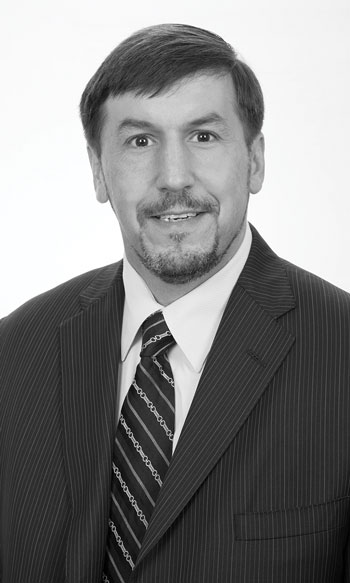 Kevin W. Yankowsky is a partner in the Life Sciences Pharmaceutical and Health Litigation Practice Group of Norton Rose Fulbright US LLP. Kevin has served as lead counsel for healthcare industry defendants in over 30 jury trials and 12 appeals in both state and federal court, the majority of which involved claimed damages at trial in excess of $1 million. Kevin's trial practice encompasses virtually all types of civil litigation facing the healthcare industry. He serves as lead counsel in professional liability claims, complex commercial suits, products liability matters, ERISA actions, premises liability suits and EMTALA litigation and regulatory investigations. In addition to his extensive courtroom experience, Kevin advises clients on Joint Commission investigations, patient privacy, data retention and security issues, and hospital committee and medical peer review matters. Kevin also serves as a frequent consultant on legal, litigation, document retention, electronic data management, and enterprise risk issues for health industry clients. Kevin's established reputation as both an accomplished trial lawyer and risk management consultant have also made him a frequently featured speaker at national healthcare industry conferences and professional symposiums across the country.
[FREE] VIDEO TRAINING
Start taking control of your medical-legal risks right now.
This FREE 3-Part Video Training Reveals . . .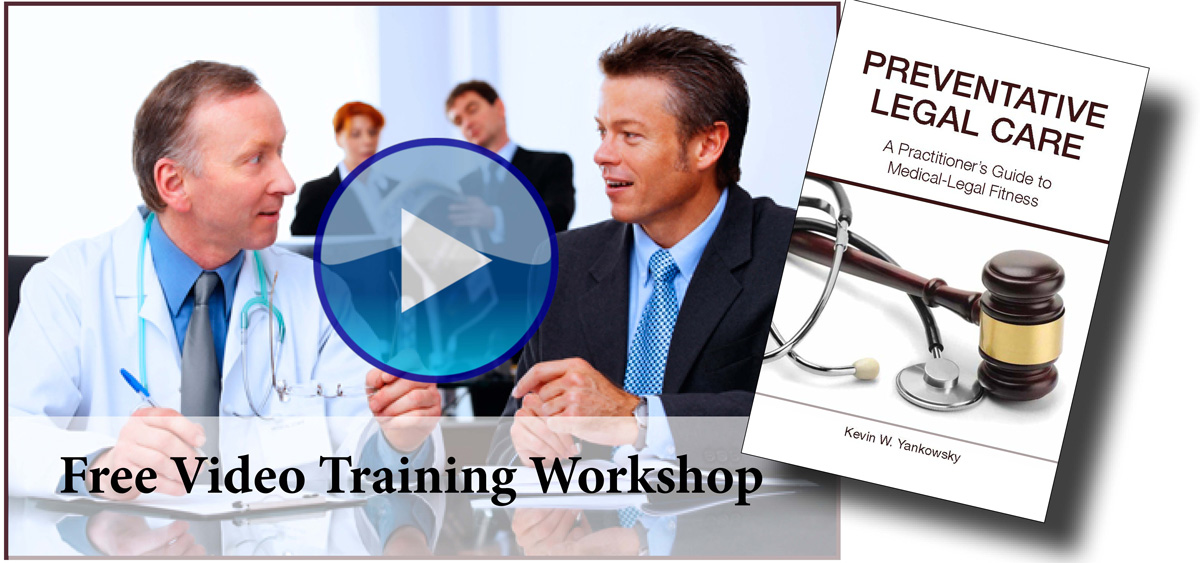 The Real Reason Why Patients Seek Plaintiff's Attorneys
Documentation: The Unexpected Ways That Your Medical Legal Adversaries Use Your Documentation
The Fundamentals of Medical-Legal Fitness
Simply enter your email below to get free access to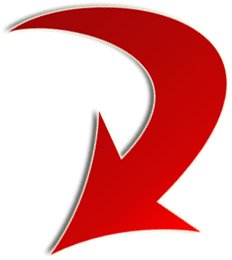 the Preventative Legal Care Free Video Training Series.

Enter your name and email for access.
We don't want you to miss this valuable free training series so sign up today!
And of course, if you get value from what you see, please remember to leave us a comment on the video training page, share it on Facebook and Linked In, and forward this email to colleagues who you think will also benefit.
Remember, if you choose not to opt-in, you will not receive the free training series.
Enter Your Name and Email Below for Immediate Access
We look forward to "seeing you" in the training.
| | |
| --- | --- |
| | 978-1-930536-77-7 |
| | Kevin W. Yankowsky |
| | 70 |
| | Perfect or eBook |
| | May 2015 |
| | First |