Yes, we are open! Please expect delays in shipping due to the pandemic situation. Contact us with questions support@bestpub.com
[Webinar] Richie Kohler, A Life Underwater - December 7 2016
Join us on December 7, 2016 at 6:30pm EST
for the exclusive (free) webinar event,
Richie Kohler, A Life Underwater
Enter your name and email below to register for the webinar.
From his living room to yours, Richie will share his experiences diving on:
Titanic
Britannic
Andrea Doria
U-869
You will see photos that he's never before shared in a public forum. Hear of his experiences as a Shadow Diver, and learn about his early days in diving.
AND, Richie will be announcing a special BONUS available only to webinar attendees!
This special event is all part of the global launch of his book, Mystery of the Last Olympian, which coincides with the film premiere.
Enter your name and email below to register for the webinar.
---
About the Book
Mystery of the Last Olympian: Titanic's Tragic Sister Britannic
by Richie Kohler with Charlie Hudson
For 100 years the mystery surrounding the sinking of Titanic's tragic sister, Britannic was a riddle waiting to be solved. This book gives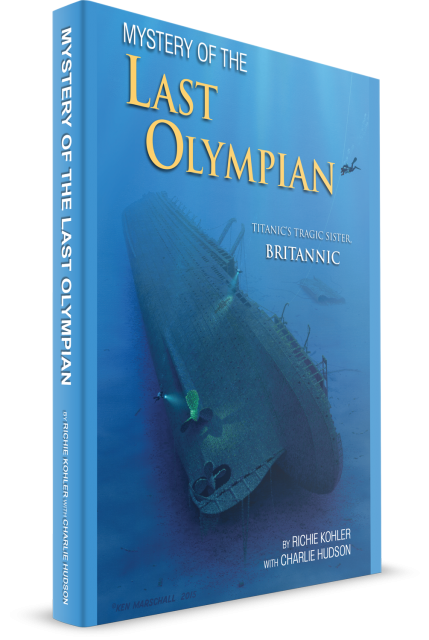 you a firsthand account as Richie Kohler takes readers on the intriguing journey from the rise of the magnificent Olympians to the fateful day in 1916.
He then moves forward in time through multiple expeditions beginning with the great Jacques Cousteau who located the ocean liner in 1975. Each successive team that risked their lives uncovered new clues, but it was not until 2009 when Richie and his dive partner definitively pinpointed the secret that had eluded them.
Join Richie Kohler, host of the History Channel's Deep Sea Detectives and featured in the bestselling book Shadow Divers as he solves the Mystery of the Last Olympian.
Related Posts
By accepting you will be accessing a service provided by a third-party external to https://www.bestpub.com/