DEPTH Blog
The most useful snippets from our authors, all in one place. DEPTH discusses topics of diving, equipment and environment, physics and physiology, technique and technology, and hyperbarics.
[Sneak Peek] Author Richie Kohler Sees His Book In Print for the First Time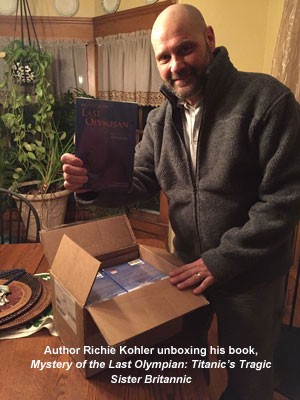 We have some big news to share . . .
Author Richie Kohler just received the personal copies of his book, Mystery of the Last Olympian: Titanic's Tragic Sister Britannic!
Richie asked us to share some photos with you of his "unboxing" the book and seeing it in print for the first time!
We always send an author copies of his/her book first, before anyone else. It's always a special moment for authors to see their life's work in physical print. So much goes into writing and publishing a book. To finally hold the print copy is a profound moment for an author.
Order your copy today!

ABOUT THE BOOK
Well-known underwater explorer Richie Kohler (of Shadow Divers and Deep Sea Detectives) and Best Publishing Company invite you to join the expedition to unravel the Mystery of the Last Olympian: Titanic's Tragic Sister Britannic.
The book gives you a firsthand account as Richie Kohler takes readers on the intriguing journey from the rise of the magnificent Olympians to the fateful day in 1916. He then moves forward in time through multiple expeditions beginning with the great Jacques Cousteau who located the ocean liner in 1975. Each successive team that risked their lives uncovered new clues, but it was not until 2009 when Richie and his dive partner definitively pinpointed the secret that had eluded them.
Finally, in July 2015, Richie and a small team attained the goal of documenting their findings that answered the century-old question as to why all the engineering solutions built into the mighty Britannic could not save her from sharing the same fate as Titanic.

Stay Informed
When you subscribe to the blog, we will send you an e-mail when there are new updates on the site so you wouldn't miss them.