DEPTH Blog
The most useful snippets from our authors, all in one place. DEPTH discusses topics of diving, equipment and environment, physics and physiology, technique and technology, and hyperbarics.
Exclusive Presale Notice for An American Immersion
Jennifer Idol became the first woman to dive 50 states and is Best Publishing Company's newest author. Be among the first to buy her book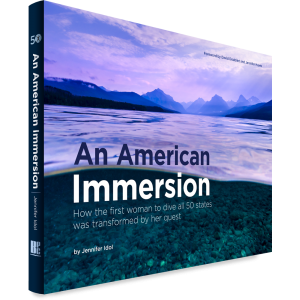 and see her transformative quest to show how our national waters are a treasure to care for and protect.
Presales are now available for An American Immersion: How the first woman to dive all 50 states was transformed by her quest.
Available through Amazon and Bestpub.com
Jennifer's story is featured in the current issue of Alert Diver, a quarterly publication sent to more than 150,000 divers. She has also been featured in DIVER and X-Ray Mag.
Beneath the Sea presentations
Join her seminar and workshop at Beneath the Sea at the Meadowlands Expo Center in Secaucus, New Jersey, April 2-3, 2016. She will sign limited edition posters after each presentation and during the show, available only with an in-person presale purchase.
Seminar: Saturday, April 2, Digital Evolution in Photo Editing
Workshop: Saturday, April 3, Editing Underwater Photos
Visit BeneathTheSea.org to learn more.
An American Immersion: How the first woman to dive all 50 states was transformed by her quest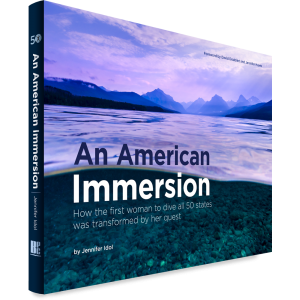 $60 US available for preorder on www.bestpub.com and Amazon
"Big dreams often start with small steps. We can all learn from Jennifer Idol's transformative journey, even if we never get near the water."
–Chris Guillebeau
New York Times best-selling author of Born for This and The $100 Startup
"Expeditions are rewarding in both the journey and the destination. Jennifer Idol describes the abundance of diving opportunities in the U.S. while discovering much greater truths about the environment and her passion to protect it for future generations. Her book is a beautiful montage of great images and captivating stories held together with life lessons and personal enlightenment. I highly recommend following her journey and then diving into your own local diving."
–Jill Heinerth
Underwater Explorer, IntoThePlanet.com
About Jennifer Idol
Jennifer Idol is the first woman to dive 50 states and author of An American Immersion. Her photography and articles are widel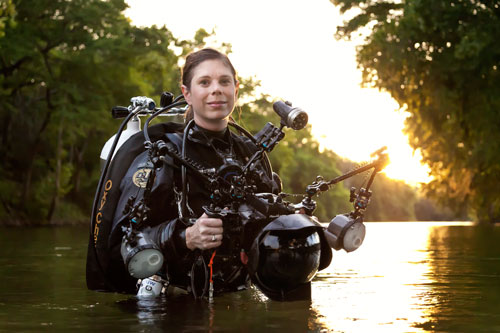 y published. Her work has been featured in competitions and exhibits across the country. The Lake Murray Wildlife Museum, Jacob's Well Natural Area, and Texas Association of REALTORS® feature her work in permanent installations.
About this book
Do you long for adventure?
Do you wish you could travel?
Do you have big dreams?
"I applied rugged passion and dedication to complete a five-year journey in which I became the first woman to dive all 50 states. An American Immersion relives my journey. It shows what motivated my quest and how I transformed from a successful designer into a conservation artist to help the world around us. I overcame time and financial obstacles to illuminate our underwater resources through vivid photography."
In this book, you will:
Find inspiration through curiosity
Discover hidden beauty in U.S. waters
Understand how I constructed my quest
Experience my pursuit of self-exploration leading to unexpected adventure
Learn how I overcame obstacles
Follow a path leading to unexpected outcome
Get Your Copy Today!
| | | |
| --- | --- | --- |
| Order from Amazon.com | | Order from BestPub.com |
| | | |
Stay Informed
When you subscribe to the blog, we will send you an e-mail when there are new updates on the site so you wouldn't miss them.