November is National Diabetes Month
As wound care practitioners, you know the devastating effects that diabetic wounds can have on your patient's health and quality of life, and how difficult their wounds can be to treat and to heal. This month we invite you to take advantage of our many resources that support your work in diabetic wound care.
50% Off Sale
Wagner Ulcer Grade Classification Poster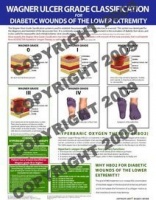 On Sale Now! Was: $33.30 NOW: $14.99
The Wagner Ulcer Grade Classification Poster is a necessity for wound care centers and especially for facilities and institutions that include hyperbaric chambers. The illustrations are highly detailed and easy to comprehend.
The Wagner Ulcer Grade Classification System is used to establish the presence of depth and infection in a wound. More recently this Classification System has been helpful in identifying diabetics with wounds of the lower extremity.
Having this poster readily available in the treatment room can give your physicians and practitioners confidence in grading their diabetic wounds of the lower extremity appropriately. The educational value of this poster is tremendous and it also acts as a constant guide for busy practitioners.
Books on Sale
Enjoy 10% off the following wound care books now though the end of November.
Use coupon code Diabetes13