Diving Physics and Physiology

Did you know that a fundamental understanding of some basic principles of physics and physiology are critical to safe diving? Continue your diver education. This week's featured resources on diving physics and physiology will help you better understand the effects of environmental conditions on a diver's performance and safety.
Diving Physics & Physiology
When a diver enters the underwater environment, he is met with a number of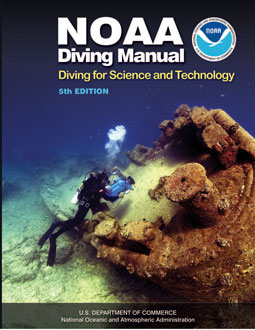 challenges to his senses, his health, and his safety. Basic physical principles govern a host of primary functions including movement, vision, hearing, and breathing.
The NOAA Diving Manual 5th Edition, Chapter 3 is all about diving physics, and Chapter 4 discusses diving physiology.
While a recreational diver need not possess a complete mastery and detailed understanding of diving physics and physiology, a deeper understanding is required as a diver progresses through advanced levels of training and certification.
Check out the NOAA Diving Manual 5th Edition, Chapters 3 & 4 and learn more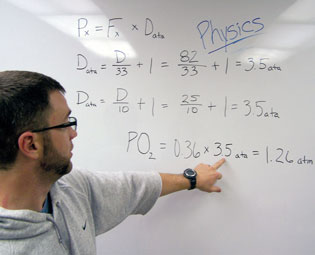 about:
Intro to Diving Physics
Pressure and the Physics of Gases
Acoustics, Light, Heat
Systems of the Body
Effects of Pressure on the Body
Oxygen Toxicity
And much, much more!
Online Course
"The Physics and Physiology of Diving and Dive Medicine"
brought to you by Peters Educational Group, LLC
Think diving physics and physiology is boring...think again! This course is understandable, useful and engaging. This online course is taught by Julio Garcia, CHT, RN, BSN. Julio is the Director of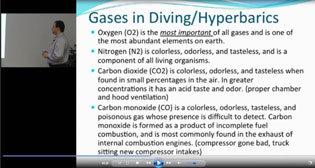 Operations for a multiplace, critical care, 24/7 hyperbaric clinic located in Mobile, AL and he is an expert in diving and hyperbaric medicine. His clinic treats a significant number of injured divers on the Gulf Coast each year.
This 80-minute course is meant for all divers, including recreational divers, dive leaders, scientific, public safety, and commercial divers. The course explores the basic physical laws, how they effect divers, and how and why hyperbaric medicine is useful in treating injured divers. A certificate is issued upon completion of the course.
More Titles of Interest
Mastering Rebreathers

by Jeffrey E. Bozanic

Understanding diving physics and physiology is paramount for the rebreather diver. Chapter 4 of this book discusses diving physics, Chapter 5 is on diving physiology. You will learn to determine absolute pressure at depth, calculate the partial pressure of any breathing gas, determine equivalent air depths, learn the multitude of physiological concerns associated with rebreather diving, and so much more!

$44.75 ORDER NOW

Basic Diving Physics and Applications

by B.R. Wienke

This monograph focuses on diving physics and associated mathematical relationships. Basic principles are first presented, and then practical applications and results are detailed. Topics related to diving protocols and operational procedures are covered.

Was $20.80 NOW: $16.40 ORDER NOW

Psychological and Behavioral Aspects of Diving

by Baruch Nevo and Stephen Breitstein

While this book mainly deals with the psychological aspects of diving, the discussion cannot take place without a basic understanding of diving physics and physiology. Chapter 1 summarizes some of the physical characteristics of the gases we breathe, their behavior in the underwater environment, the physical characteristics of the underwater environment itself, and the impact these properties have on our physiological and sensory systems.

Was: $27.05 NOW: $21.64 ORDER NOW


Diving Physics with Bubble Mechanics and Decompression Theory in Depth

by Bruce R. Wienke

Diving physics and bubble dynamics with material and phase mechanics are detailed. Topics span many disciplines and focus on a number of diving arenas. This book extends the author's earlier publications, such as the above mentioned, Basic Diving Physics and Applications.

Was: $52.00 NOW: $44.20 ORDER NOW

Beating the Bends

by Alex Brylske

Before we can understand how DCS occurs, we must understand some basic ideas on how gases are absorbed and eliminated. In very easy-to-understand language, this book explains the interaction of liquids and gases under pressure, and explains the terms gas tension, pressure gradient, saturation, and supersaturation. It then explains how the human body is affected by these physical phenomena.

NOW: $22.95 ORDER NOW
This package set is perfect for continuing education for dive clubs, dive buddies, working divers and dive teams.