Join author and world-renowned technical diver, Richie Kohler at EuroTek 2018, an advanced diving conference taking place in Birmingham UK.
Richie is a featured speaker at the conference and will be selling and signing copies of his book, Mystery of the Last Olympian: Titanic's Tragic Sister Britannic
About the Book
Mystery of the Last Olympian: Titanic's Tragic Sister Britannic
by Richie Kohler with Charlie Hudson
For 100 years the mystery surrounding the sinking of Titanic's tragic sister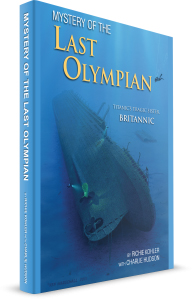 Britannic was a riddle waiting to be solved. This book gives you a firsthand account as Richie Kohler takes readers on the intriguing journey from the rise of the magnificent Olympians to the fateful day in 1916.
He then moves forward in time through multiple expeditions beginning with the great Jacques Cousteau who located the ocean liner in 1975. Each successive team that risked their lives uncovered new clues, but it was not until 2009 when Richie and his dive partner definitively pinpointed the secret that had eluded them.
Join Richie Kohler, host of the History Channel's Deep Sea Detectives and featured in the bestselling book Shadow Divers as he solves the Mystery of the Last Olympian.
WAYS TO ORDER:
1) EuroTek website https://eurotek.uk.com/
2) Ingram
Reach readers around the globe with Ingram's worldwide print and distribution program. In addition to print-on-demand facilities in the United States, United Kingdom and Australia, Ingram also partners with suppliers globally so books can be sold worldwide without the hassles of international shipping.
Website: www.ingramcontent.com
3) Direct from Publisher - Best Publishing Company
Offering competitive quantity discounts to resellers around the globe, ordering directly from the publisher avoids the middle person and puts more money in the pockets of retailers, dive shops, resellers, and distributors. Shipping is available to locations worldwide.
Individuals and organizations outside of the U.S. can purchase the book directly from the publisher at the following link, providing you with affordable shipping options (shipping is based out of the U.K.).
Email: info@bestpub.com or asisko@bestpub.com (ask for Andrew Sisko, head of customer service)
Phone: +1-561-776-6066
Website: https://www.bestpub.com/books/adventure-history/product/445-mystery-of-the-last-olympian/category_pathway-19.html