WCHM Magazine Volume 9 Issue 3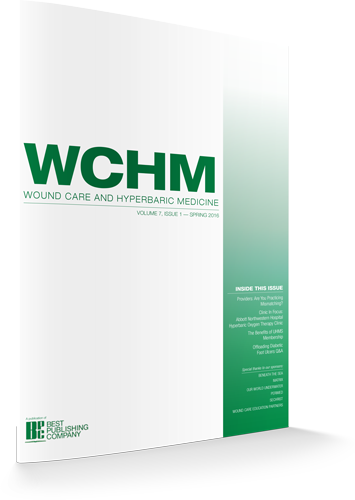 New Issue Now Available [Free]
WCHM is the world's only free online magazine covering all topics under pressure: wound care, diving medicine, and hyperbaric medicine. It is now in its ninth year!
HIGHLIGHTS IN THIS ISSUE
HYPERBARIC MEDICINE:
Baromedical Nurses Association Updates
Compiled by Laura Josefsen, RN, ACHRN
BNA Announces Release of Updated Guidelines
Information provided by Jolene Cormier and Dana Winn
Risk Management Analysis
By Jolene E. Cormier, BSN, RN, EMT-P, CHRN, CHT
SAFETY:
Time Machine
By Darren Mazza
WOUND CARE:
UHMS Member Wound Scoring System Is Receiving Coverage
By Michael B. Strauss, MD
Press Release from Smith & Nephew announcing the first and only Medtech innovation briefing (MIB) published by the UK's National Institute for Health and Care Excellence (NICE) on a Negative Pressure Wound Therapy (NPWT) device for preventing surgical site complications (SSCs).
DIVE MEDICINE:
Diving with Disabilities, Part 3 discusses previous medical problems of diving and provides resources for divers with handicaps.
By Michael B. Strauss, MD and Lientra Q. Lu, BS