One of the most famous and widely used habitats was NOAA's Hydrolab, which was stationed in the Bahamas and Caribbean from 1972 to 1985 and provided a base for more than 600 researchers and nine countries.
The Aquarius, a flexible and technologically advanced habitat system, has replaced the Hydrolab as NOAA's principal undersea research laboratory (see photo below).
Learn more about the history of diving and NOAA contributions in Chapter 1 of NOAA Diving Manual, 6th Edition.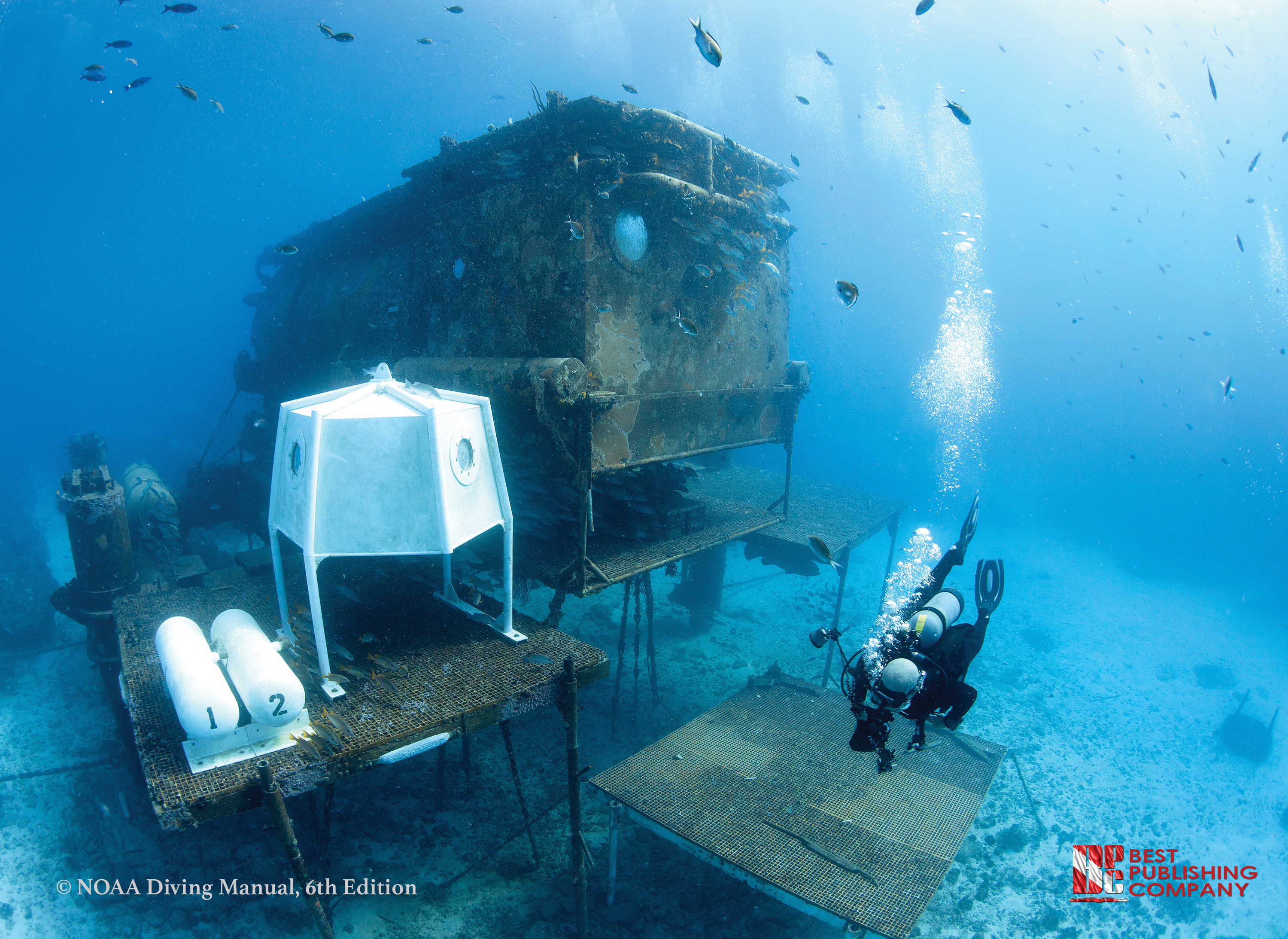 This is the final week to receive the presale discount!
Presale Discount Pricing Available Now Through October 15
Save an additional 10% off the MSRP during presale!
Presale Price (Print Version): $104.40 (only through October 15)
MSRP (print version): $116 (October 16 and after)
Books ordered during presale will ship starting the week of October 16.
About the Book
All serious divers should have this comprehensive manual in their library. Dozens of the foremost diving scientists, educators, and other professionals in the field have contributed to and reviewed this important volume.
The 6th edition is more robust than previous editions. This 6th edition builds on earlier editions, combining new developments in equipment and cutting-edge methods and procedures to provide a reference text that is useful for not only scientists but all divers.
Plus, regular retail price is 10% less than previous editions - giving the reader more value for a lower price.
New Chapters
Advanced Platform Support – diving with ROVs/AUVs, submersibles, and atmospheric diving systems
Underwater Photography and Videography
Significantly revised and updated chapters include:
Diving Equipment
Procedures for Scientific Divers
Rebreathers
Polluted-Water Diving
This edition also includes the new NOAA nitrox tables.
Table of Contents
SECTION 1: DIVING BASICS
1 History of Diving
2 Diving Equipment
3 Diving Physics.
4 Diving Physiology
5 Air Diving and Decompression
SECTION 2: ADVANCED MODES OF DIVING
6 Nitrox Diving
7 Mixed-Gas Diving
8 Rebreathers
9 Surface-Supplied Diving
10 Advanced Platform Support
11 Saturation Diving
SECTION 3: DIVING PLANNING AND PROCEDURES
12 Dive Planning
13 Procedures for Scientific Dives
14 Procedures for Working Dives
15 Underwater Photography and Videography
SECTION 4: ENVIRONMENTAL CONSIDERATIONS
16 Hazardous Aquatic Animals
17 Diving Under Special Conditions
18 Polluted-Water Diving
SECTION 5: EMERGENCY PROCEDURES
19 Diver Location and Recovery
20 Diving Accident Management and Emergency Procedures
21 Emergency Medical Care
22 Hyperbaric Chambers and Support Equipment
Appendix A: Nitrox Dive Tables
Appendix B: Field Neurological Assessment
Appendix C: Flow Charts and Treatment Tables
Appendix D: U.S. Navy Air Decompression Tables
Appendix E: NOAA Air Diving Table
Appendix F: Rebreather Checklists
Appendix G: Recognition of Diving Maladies
Appendix H: Glossary of Diving Terms
Appendix I: References
Appendix J: Index