Paul Mila and his recently released book, Harry Hawksbill Helps His Friends is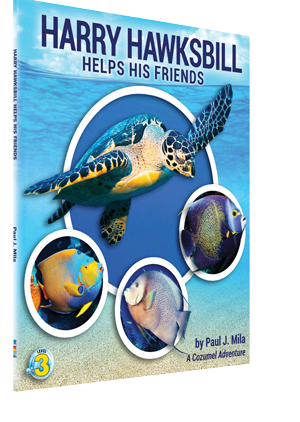 making a big splash around the Northeast United States!
Find Harry in a dive shop, library, or bookstore near you . . .
About the Book
Harry the hawksbill turtle discovers that his angelfish friends aren't getting along because they look different from each other. Harry teaches them they are more alike than they realize, while children also learn about sea life.
This is a fun book for beginning self-readers or for parents and children to read together.
Reviews
"This terrific little book has everything. The story is fantasy, but the underwater color photos showing the interaction of reef characters are real. The information about turtles is easy to understand, and the fish learn a great lesson about befriending those who are not always just like you. It even has easy, fun questions at the end to enhance the learning."
- Cathy Church, award-winning underwater photographer, teacher, author
"Paul Mila invites us into a beautiful undersea adventure and introduces us to a rainbow of new friends. He combines accurate science and spectacular photographs with an important lesson about the value of diversity, giving readers many important insights! The balance of informational text with an important social message makes this a fine addition to any children's library."
- David Flatley, Superintendent Carle Place Schools
Dive into Learning with the BPCKids line of books!