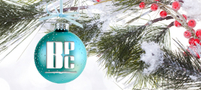 One of the real joys this holiday season is the opportunity to say thank you and wish you the very best for the New Year! Sending you warm holiday wishes from the Best Publishing Company family!
The Best of 2014
Click to see the best-selling BPC titles of 2014 and save 15% now through December 31st!
Upcoming Events 2015
The 2015 training schedule is filling up! Click to see the calendar of upcoming courses in Wound Care and Hyperbaric Medicine provided by our industry partner, Wound Care Education Partners.