Technical and Rebreather Divers, look no further!
Find all of the continuing education events, books/textbooks, dive tables, and resources you need to be a safer and more prepared diver!
Upcoming Events
Join Best Publishing Company at these worthwhile upcoming events!

May 17-18, 2014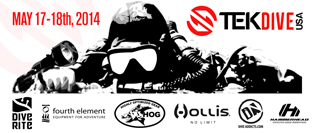 TEKDiveUSA in Miami, Florida
If you are looking to expand your dive medicine knowledge, it is worth booking your pass to this month's advanced and technical diving conference, TEKDiveUSA. During the weekend an international team of well-known and well-respected speakers will present forty different talks, eight of which will cover diving physiology and decompression topics. READ MORE...
---
June 10-16, 2014
Redefining Limits: Technical Diving Boot Camp and Tec Diving Travel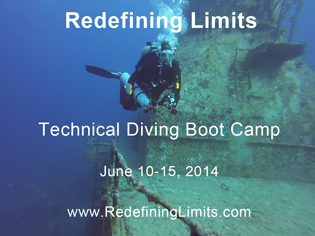 Harleysville, PA (near Philadelphia)
Many divers think that technical diving is too complicated, expensive, or dangerous for them to ever attempt. Nothing could be further from the truth. At Redefining Limits Technical Boot Camp, divers gain valuable experience with dive planning and training in decompression procedures. Redefining Limits provides the opportunity to learn technical diving from top certified instructors in an extremely cost effective manner. READ MORE...
RESOURCES YOU NEED
"Rebreathers and the Recreational Diver" by Jeffrey Bozanic, Ph.D.


In this free article, Bozanic discusses how advances in rebreather technology have improved training, made them less costly, and significantly increased the ease of preparation, cleaning, and use. But rebreathers are still more expensive, more complex, and demand a greater degree of attention to detail than OC scuba. So why would a recreational diver consider a rebreather for his/her personal diving? READ MORE...

Mastering Rebreathers, 2nd Edition by Jeffrey E. Bozanic


This book offers a comprehensive new look at rebreathers, written for the diving industry. Its chapters cover all types of rebreathers currently available; the history, physics, physiology, and theory of rebreather diving; pre-dive, dive, and post-dive procedures; and maintenance and travel considerations. It is designed for use as a generic textbook for all agencies and rebreathers. ORDER NOW!

NOAA Diving Manual, 5th Edition

Used by divers everywhere, the NOAA Diving Manual 5th Edition is the most comprehensive resource for learning about dive equipment, dive planning, decompression, and emergency medical care of an injured diver. Chapters also include more advanced concepts such as physics and physiology, mixed gas diving, surface-supplied diving, saturation diving, and the list goes on.

Need a textbook for your next course? Use this manual!

The manual is the perfect resource for scientific divers, commercial, military, public safety, recreational divers, and dive leaders! ORDER NOW!

Consolidated Constant Partial Pressure Dive Table (two sided)

Consolidated Nitrox Dive Tables (two sided)
NEW ARRIVALS
Check out these new arrivals to the BPC online bookstore!
The Tao of Survival Underwater: Exploration and Mixed Gas Diving Encyclopedia
by Tom Mount, D.Sc, Ph.D., N.D. and Joseph Dituri, M.S., Vice President and Co-Owner of IANTD

This technical diving guide looks at the diver from a wholistic perspective, covering the technical, physiological, and psychological aspects of diving, as well as decompression strategies and models. ORDER NOW!

Scuba Diving Safety by Dan Orr, M.S.

The Survival Guide for:

Equipment malfunctions
Hazardous environments
Dangerous marine life
And much more!

Do not rely on someone else—or chance—to keep you safe. Let Scuba Diving Safety help you prepare for the unexpected and provide the confidence to enjoy your underwater adventures to the fullest. ORDER NOW!