Danbury Hospital Diving Medicine Conference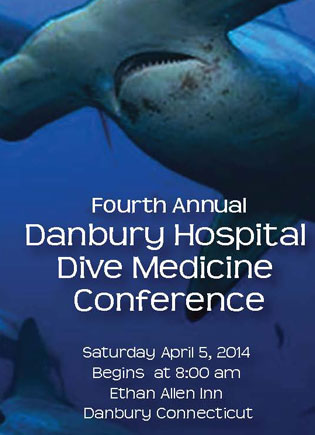 This annual conference is a must-do! The half-day event brings together commercial, military, public safety, and recreational divers, as well as the physicians and medical staff that specialize in diving medicine. Listen to lectures from industry giants such as Fabian Cousteau, Craig Jenni, Dr. Christopher Logue, and others!
Visit the BPC booth for show special pricing on books and gear! REGISTER TODAY!
Place Your Conference Pre-Order Today and Save!
Pre-order your diving books now from Best Publishing Company! Pick up your order at the Danbury Hospital Diving Medicine Conference this Saturday, April 5th.
Conference discount pricing is available now!

Pre-ordering will guarantee that you receive the book you want on Saturday at the conference.

Take advantage of Free Shipping!

Quantity Discounts (on orders of 5 or more)
To Pre-Order, call 561-776-6066
or email info@bestpub.com

Sneak Peak at Books on Sale
Here is a sneak peak at some of the books that will be on sale at the booth...
NOAA Diving Manual 5th Edition

From recreational to technical, scientific to commercial, dive instructors to safety directors, this is the most comprehensive diving manual on the market today. Improve diving technique, accident management and preparedness, equipment care and maintenance, and much more. This is your opportunity to get the world's foremost diving manual at the lowest price!

Conference Special $74.00

The Commercial Diver's Handbook: Surface-Supplied Diving, Decompression and Chamber Operations Field Guide

"If you are a serious diver or dive supervisor you should have this excellent decompression resource on the job. It may save your or another diver's butt." -John Carl Roat, Sr. Supervisor/Diver, Legacy Offshore, LLC.

Conference Special $29.99

Encyclopedia of Underwater Investigations, Second Edition


One of the preeminent publications in the area of underwater forensics and investigations. The manual demystifies and clarifies underwater investigative procedures, providing a clear, descriptive, step-by-step instruction manual for the public safety dive team and underwater investigators.

Conference Special $41.65

Underwater Crime Scene Investigation: A Guide for Law Enforcement

This text provides an overview of underwater crime scene investigation and, more importantly, breaks down every detail of thorough organizing, evaluating, and effective crime scene reporting. It also details the processes and procedures required for professional crime inquiry.

Conference Special $32.75

Mastering Rebreathers, 2nd Edition

A comprehensive new look at rebreathers. Its chapters cover all types of rebreathers currently available; the history, physics, physiology, and theory of rebreather diving; pre-dive, dive, and post-dive procedures; and maintenance and travel considerations. It is designed for use as a generic textbook for all agencies and rebreathers.

Reg. $44.75 (softcover)

Conference Special $34.99

Psychological and Behavioral Aspects of Diving

This book is totally focused on the diver as a person. It covers topics such as divers' sensory perception, long-term impact of diving, mental functioning, suitability for diving, diving accidents, panic and anxiety and the influence of hyperbaric pressure.

Conference Special $19.99

More Sale Titles

Cold Water Diving Conference Special $19.99
International Textbook of Mixed Gas Diving Conference Special $15.99
On-Site Management of Scuba Diving and Boating Emergencies Conference Special $17.99
US Navy Diving Manual Revision 6. CD format Conference Special $17.99
Scientific Diving Techniques Conference Special $22.99
How to Order
Conference pre-orders are being accepted now through Thursday, April 4th at 5pm.
To pre-order, call 561-776-6066
or email info@bestpub.com

PRE-ORDER NOW!