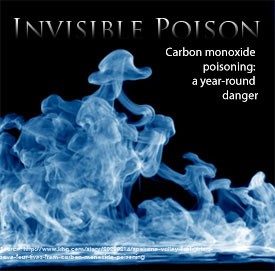 This is the final installment in our series on the published works of Dr. Eric P. Kindwall, the "Father of Hyperbaric Medicine." This week we are discussing the topic of carbon monoxide and cyanide poisoning. We invite you to dive into this topic with us and take advantage of these free goodies...
[PDF] Carbon Monoxide and Cyanide Poisoning: Presentations and Oxygen Treatment


Carbon monoxide (CO) is one of the leading causes of injury and death by poisoning worldwide. Use this reference guide excerpted from the chapter on Carbon Monoxide and Cyanide Poisoning by Drs. Thom, Myers, and Kindwall from the book Hyperbaric Medicine Practice, 3rd Edition to help recognize:

Clinical presentations
Neuropsychiatric presentations
Carbon monoxide poisoning in children
Patient management and the use of oxygen treatment
[Video] Carbon Monoxide Poisoning: Causes, Symptoms, and When to Utilize Hyperbaric Medicine


Carbon monoxide poisoning is one of the most common causes of poisoning in the world and the leading cause of death by poisoning in the U.S. In this 5-minute video you will learn the causes, signs, and symptoms of carbon monoxide poisoning and when to utilize hyperbaric medicine in the treatment.

Ready to learn more about the mechanisms of hyperbaric oxygen therapy? Consider enrolling in an Introductory Course in Hyperbaric Medicine. Click here for more details http://woundeducationpartners.com/liv..
Learn More About It With These Resources
Hyperbaric Medicine Practice, Second Edition Revised

By Eric P. Kindwall, MD and Harry T. Whelan, MD

Hyperbaric Medicine Practice, Third Edition

By Eric P. Kindwall, MD and Harry T. Whelan, MD

eBook Hyperbaric Medicine Practice, Third Edition

By Eric P. Kindwall, MD and Harry T. Whelan, MD

Unexpected Odyssey: From Merchant Sailor to Hyperbaric Physician

The autobiography of Eric P. Kindwall, MD